30-hour Face Massage Course
Face Massage Course (adjusting, reviving, lifting & balancing)
If you want to take the practice of traditional Thai massage to the next level, we're ready (on request) to teach you a massage that focuses on the face. Learning the art of a facial will provide your patients with long lasting therapeutic impacts better than cosmetic procedures.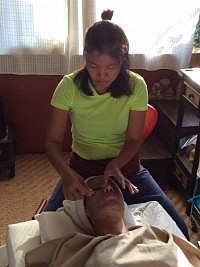 Sirichan facial Explained
At Sirichan, sensitivity lies at the heart of the facials. In this course, you'll learn how to maneuver your fingertips with fine movements and apply deep natural treatments of your liking on both the young and elderly generations—proving the most beneficial for those with a marked or tired looking face. 

If you're a beautician or masseuse, or work in a high-end spa, this deep treatment serves long-lasting results without the need for a combined cream or cosmetic product. This treatment targets the blood flow and nutrients restoring them to their face naturally and with full reactivation.
Registered with the Thai Ministry of Public Health and a Member of the Union of Traditional Thai Medicine Society (Thailand), this facial is recognized to restore original radiance in every patient.    

How does it work?
When learning the art of the facial at Sirichan, we also teach you the science behind it. The main purpose of this massage is that it stimulates, revives, and harmonizes the energy and blood flow in the body of the neck, face, and shoulders.
Nooy's facial reactivates the rebirth of cells and vital liquids of the skin. In this massage, you'll learn reflexology zones and know how to stimulate the face to the skin to replenish itself naturally.
Learning this massage will allow your patients to feel the following benefits:
Less wrinkles

Glowing eye
Radiant face
Positive feeling due to looking 10 years younger.
Usually, the benefits become visible within 1-10 treatments, releasing tensions from the body, and mind and restoring vitality back to the face. Upon completing this massage, you'll receive full accreditation with certifications from our school at Sirichan. All certificates are officially recognized by the Ministry of Health; however they can be delivered upon proper evaluation and a small extra fee if you wish.
Fees
The cost of this 5-day facial course is 20,000 THB, including tools and tuition.
In order to book, please send us an email through our contact page.