Explore our 4-Week Professional Thai Massage Training Program
The Most Complete 4-Week Course in Massage Therapy in Chiang Mai
Start your path to becoming a professional masseuse with a complete course solidifying your foundations of ancient Thai massage therapy.
Overview of the course
Uncover the core components of traditional Thai massage therapy with Noy and our therapists. In this four week course, we dive into the mindset and the main techniques that ancient Thai massage is built upon. This course is taught directly by Noy, a native of Chiang Mai, with a mixture of theory and practical based classes to truly help you master century old movements used in her lineage and ones from used in Thailand. There's a maximum class capacity of 8 people at a time.
Equip yourself with first-hand Lanna knowledge uncovering the untwisted and authentic techniques, and pave the way for your future progress into healing. Whether you're a beginner or a professional, enrich your expertise and gain a broader understanding of bodily interconnections.
This course is like no other one taught in Chiang Mai schools; it's a blend of family secrets, traditional ancient techniques taught in Thailand, and the ones we use ourselves in our clinic first hand. When learning with us, you don't just practice with other students but with our teachers and patients.
Upon completion of the course, it's important you stay consistent with the techniques and principles taught, regularly practicing them.    
What you'll achieve
With Noy, you'll gain more than just wisdom and knowledge on this course; by the end, you'll be able to:
Feel or begin to feel for knots or tension in the body

Conduct a more accurate assessment of patient conditions

Have a healing centric focus instead of following a rigid protocol
Improved confidence in manipulations
Implement unique and ancient techniques into your practice    
Weekly insight
Week 1: Learn to feel and apply techniques with precision and the art of the 2 hour full body massage.
Week 2: Incorporate additional techniques on top of week one and create your own massage by the end of the week.
Week 3: Uncover the basic principles and secrets of Deep Thai and Walking Massage. Use your hands, feet, knees, elbows, and thumb to learn an effective whole body massage.
Week 4: Learn to realign the body and its joints with body balancing and stone sessions. This week you'll focus on the hips, spine, legs, arms, and neck.
For more information about our 4 week training and cost, contact us.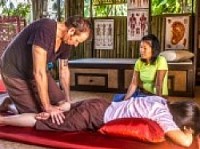 Massage Training Week by Week
Week 1: Thai massage 1. Not only does Ajarn Nooy teach Thai massage, but she teaches to feel, and more importantly to apply techniques with great precision, like no other teacher in Chiang Mai does. You will learn a 2-hour full body massage.
Week 2: Thai Massage 2. The second week of Thai massage teaches even more techniques, so that at the end of the 2 weeks, you can create your own massage.
Week 3: Deep Tissue and Walking Massage. This week, you will learn to give deep and effective massage on the whole body, using hands, knees, feet, elbows and thumbs. This week includes Thai massage, walking massage, but also learning to apply the basic principles of an effective therapeutic massage.
Week 4: Body Balancing and Bone Setting. Finally, you will learn to re-align the body and its joints. This week is dedicated to relaxing deeply muscle tensions first then adjusting joints. You will work on the spine, the hips, legs, arms and neck.
The training is limited to a maximum of 8 students. Each week can be booked separately.
Price: 30,000 THB (incl. tools. No extra cost).

Bonus

At Sirichan, students do not only practice on each other, but also on Dr Nooy and on non-students under due supervision.
Maximum 8 students
All weeks can be booked separately.